Department of Mechanical Engineering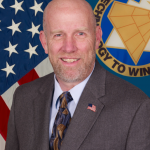 University of Maryland, Baltimore County
1000 Hilltop Circle Baltimore, MD 21250

Phone: (410) 455-8131 Office: ENGR225F Email:  swilker@umbc.edu
Education
Ph.D. Mechanical Engineering, The Johns Hopkins University, Baltimore, MD 21218, Thesis Title: "A Boundary Integral Approach to Three-Dimensional Underwater Explosion Bubble Dynamics," 1990
M.S. Structural Engineering, George Washington University, Washington DC 20052, Thesis Title: "Ship and Submarine Response to an Underwater Explosion," 1985
B.S. Mechanical Engineering, The Johns Hopkins University, Baltimore, MD 21218, 1982
A.A. Engineering, Essex Community College, Essex MD, 1979
– Other Graduate-Level Courses (List supplied upon request)
– Numerous In-Service Training: (List supplied upon request)
Employment History
| | |
| --- | --- |
| 2010 – present | Associate Director, Vehicles Technology Directorate, Army Research Laboratory, Aberdeen, MD |
| 2007 – 2010 | Division Director, Autonomous Systems, Army Research laboratory, Aberdeen, MD |
| 2002 – 2007 | Branch Chief, Weapons Technology Analysis Branch, Army Research Laboratory, Aberdeen, MD |
Notable Accomplishments
Managed BIRRD Program, Dragonfly Pictures, 800K
Managed Electric Motors Program, Dakota Power, SD 2.5M
Managed Carbon Fuel Cell Program, University of West VA, WV 2.1M
Managed Bio Fuel Program, University of Wisconsin, WI ~2.0M
Science Advisor to the Rapid Equipping Force (REF) 2005
Exchange Scientist, Germany 1993. (DASA Aerospace in Wedel).
Teaching Experience
Current Lecturer at UMBC 2012-present
Visiting Professor USMA West Point 2010-12
Adjunct Faculty at Towson University 2006-10
Adjunct Faculty at Harford Community College 1994-2010
Visiting Professor USMA West Point 1996-1997
Recent Committee Memberships
EPA Advisory Committee UMBC-ARL 2014
NSF Advisory Committee CoRobots for Nuclear Search (CRONUS) GA Tech, U-Michigan, 2014
SMART Panelist 2010-14
Invest Maryland Advisory Committee 2013-14
SIMIODE Board of Contributing Advisors 2014
Reviewing Activities
LTC Korpela Ph.D Committee Drexel University 2014
Served on Approximately 10 Ph.D Committees in past 10 years.
Mentored or sponsored 1-5 Students/Cadets each summer past 20 years
Professional Society Memberships
Registered Professional Engineer, State of Maryland, 1983 to present.
IEEE, Electrical and Electronics Engineers, Inc.
ASME, American Society of Mechanical Engineers.
MAA, Mathematics Association of America.
Notary Republic, State of Maryland.
Harford Radio Control Modelers Association.
Honors and Awards
Dec 2014 – Achievement Medal for Civilian Service
May 2012 – Commander's Civilian Service Medal
May 1997 – Superior Civilian Service Medal
April 2007 – Certificate of Appreciation Governor's Volunteer Service Award
Sept 1994 – ASME best Paper in Finite Element Analysis
~20+ Service Awards
14 Commander Coins in the past 10 years
Community Activities
Head Maryland State Judging FLL (Current)
USMA MATH Diversity STEM (20) workshops 2010-14
Volunteer FRC 2006-14
Head Judge at numerous FLL Qualifiers 2010-14
GEMS 2010-2014.
3D Printing at Harford County Library 2013-14
Selected Publications
(~60) Peer Review Papers
(41) Peer Review Demonstration Projects (last 5 years)
(2) Book Contributions (2011, 2012)
(2) Patents
Most Recent Publications
Stephen Wilkerson, David Arney, and Stanley Florkowski, "A Simple Method for Dynamic Visualization of Differential Equations using Mathematica," Mathematics and Computer Education Journal, (Publication 2014)
Stephen Wilkerson, Radhakrishnan Balu, "Torque Profile of Switched Reluctance Motors Driven by Unipolar Pulses," 2013 IEEE International Conference on Electro/Information Technology, South Dakota, May 2013.
John W. Gerdes, Stephen A. Wilkerson and Satyandra K. Gupta , "A Review of Bird-Inspired Flapping Wing Miniature Air Vehicle Designs", J. Mechanisms Robotics 4(2), 021003 (Apr 04, 2012)
Manuscripts for ICTCM
Stephen Wilkerson, Russell Park, Frank Wattenberg, "Solar Energy – "Take a Spherical Cow", to be submitted to the College Mathematics Journal Winter 2014
Stephen Wilkerson, Russell Park, Frank Wattenberg, "Solar Energy – There Are Theorems and There Are Theorems," to be submitted to the College Mathematics Journal Winter 2014
Stephen Wilkerson, Russell Park, Frank Wattenberg, "Solar Energy – Can Parking Save Money and the Planet?" to be submitted to the College Mathematics Journal Spring 2014
Academic Materials for ICTCM
Mini-course
Talk schedule