Interdisciplinary Capstone Project
UMBC provides a unique student experience by offering an interdisciplinary capstone project. Mechanical Engineering students can register for the two semester Computer Engineering System Design course (CMPE450/451) enabling students from both departments to work together on integrated project teams. The projects require the combined expertise from the two disciplines and thereby provides a true professional engineering experience that requires hands-on participation in the design process. Students learn the progression from identification of customer needs to concept generation and the entire design-build-test cycle. Course topics include system engineering, project management, engineering economics, team dynamics, and legal and ethical responsibility of today's engineers. Formal technical documentation and oral presentations are emphasized as critical professional skills.
Industry Involvement
Students in the capstone course are encouraged to collaborate with industry partners to find solutions to real-world problems. Corporations provide project ideas, an industry mentor and funding for the projects. The project must address a technical problem at a level appropriate to a college student's knowledge and skills.
Benefits to corporations include:
Creative solutions to real-world problems with little capital investment or employee time
Increased visibility among soon-to-be Mechanical Engineering graduates
Opportunity to influence future engineers and positively effect industry as a whole
Timeline
Summer
Corporations are invited to submit project proposals
September
Sponsors are invited to present projects to the capstone class
Students form teams and select projects
Student teams begin regularly scheduled meetings with their sponsors; project scope and requirements are established
October
System Requirements Review presentation
November
Formal Statement of Work approved
Formal Requirements Specification approved
Conceptual designs developed; prototyping begins
December
Feasibility demonstration completed
Corporations invited to student Conceptual Design Review presentation
Detailed designs completed and prepared for fabrication and testing in Spring semester
February
Preliminary Design Review presentation
Fabrication is initiated
April
Fabrication, assembly, and testing
May
Corporations invited to student Critical Design Review presentation of final design and project demonstrations
Student teams provide deliverables (written report, fully functional prototype, engineering documentation)
Sample Projects
Autonomous Quadcopter (AQP)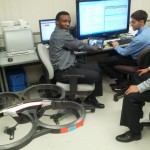 The purpose of this project is to develop a product that would allow owners of the AR. Drone 2.0 to modify the drone to fly and operate autonomously. The kit will allow the user to touch/enter locations on a map on a laptop or tablet computer.  The points are then translated into GPS way-points that the drone then flies to in the order that they were touched.  The system will incorporate object avoidance using the on-board video camera.
Submerged Water Plane (SWP)
The purpose of this project is to build an underwater glider that uses only fins and the ability to change its density as a means of propulsion, i.e. no propellers. By pumping water into or out of the glider body, the density and center of gravity changes enable it to dive or return to the surface. During the dive/float process, the fins will be used for steering. The glider will use internal sensors (gyroscope, accelerometer) and pressure sensors in order to determine its position and orientation in the water.
Satellite Tracking Antenna (STA)
The purpose of this project is to develop a portable drive and control system to enable an antenna to follow a communications satellite in low earth orbit.  The system will accept location data for the antenna and then, using known orbital parameters for the satellite, produce the appropriate control signals to move the azimuth/elevation (az-el) drive system and have the antenna follow the satellite across its visible orbit.
Interested?
Students
Please see you advisor to register for this exciting capstone experience.
Sponsors
Industry donors typically provide $5,000 – $10,000 depending upon the scope of the project. Deliverables include a report and presentation from the student team.  If the project advances to the prototype stage, the funds cover materials and other associated costs. Gifts also provide general support the student design project program.
To submit a proposal, please contact the Associate Director of Corporate Relations, Allison Jones, at ajones9@umbc.edu or 410-455-6279.