Welcome to Mechanical Engineering at the University of Maryland Baltimore County.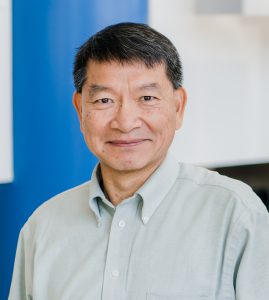 Mechanical Engineering is one of the oldest and broadest engineering disciplines.  In the more traditional sense, Mechanical Engineering employs principles of physics and chemistry and knowledge from the fields of mathematics, mechanics and materials science for the analysis, design, manufacturing and maintenance of mechanical systems.  Again, in the traditional sense, a Mechanical Engineer would be the expert in the production and usage of heat and mechanical power which are critical in the design, production and operation of tools, components and machines used in manufacturing durable goods and in using advanced technologies for the benefit of society.
In recent years, the discipline of Mechanical Engineering has taken on an expansive, and critical role in the advancement of transformative new technologies such as the information-, bio-, nano-technologies and MEMS (Micro-Electro-Mechanical Systems).  It is clearly a new and exciting world out there.  We are delighted to be at the forefront of acquiring new knowledge through cutting edge research in this new and expansive field of Mechanical Engineering.  As reflected in their posted profiles and accomplishments, our faculty are recognized nationally and internationally for their research and discoveries.  Many of them are Fellows of engineering societies and recipients of prestigious research awards granted for excellence by agencies such as the National Science Foundation and the National Institutes of Health.  The mechanical engineering faculty also maintains collaborative research programs sponsored by the US Army, Navy and Air Force and a multitude of other government agencies and industry sponsors.  We are a national leader in Engineering Education with the Project Lead The Way (PLTW) program regarded with admiration by many across the country.
While we are committed to rigorous fundamental and applied research, we are also thrilled to have a unique opportunity to educate a new generation of Mechanical Engineers, preparing them to contribute, enhance and help shape a fast changing technological society.  We strive hard to instill in our students and researchers a heightened sense of ethics that we consider of paramount importance in strengthening and safeguarding their personal and professional integrity.
The Mechanical Engineering Department at UMBC is one of five Engineering departments residing within the College of Engineering and Information Technology.   We offer an undergraduate program leading to a B.S. degree in Mechanical Engineering and graduate M.S. and Ph.D. programs that also lead to respective degrees in Mechanical Engineering.  A graduate certificate program in Computational Fluid Dynamics is also offered. Although not integrated into the curriculum, applied experiences are facilitated through the UMBC's Shriver Center and through direct internship placements with our industrial partners in the greater Baltimore-Washington DC region and across the country.
Our undergraduate program enjoys full accreditation granted by the Accreditation Board of Engineering and Technology (ABET) through periodic on-site visits and reviews. We offer a comprehensive curriculum to our undergraduate students that exposes them to the rigor of the fundamentals of science, mathematics and engineering while also providing exciting hands-on experiences through a well thought out sequence of design course and design realization experiences.  Our faculty, many of whom are inventors with licensed patents, are truly leading by example in cultivating innovation and entrepreneurship as important competency components for our students.
It is with pride that we look at our students' professional successes in academia, research and industry.  Upon graduation, a good number of our students enter into graduate schools for M.S. and Ph.D. studies with fellowships and scholarships at UMBC and other prestigious universities.  The majority of our graduates have secured highly competitive jobs with the local and national industries.  A high percentage of our students who take the Fundamentals of Engineering (FE) Exam pass it at rates higher than those of our peers and neighboring programs.  Many of our graduates have made significant advances in their careers with impressive records of accomplishment and assumed leadership positions in their professions.
It is truly remarkable and gratifying to be a part of such a dynamic and vibrant program.  We hope that you would enjoy exploring our website, highlighting achievements of our students, staff, and faculty.  In case you are left with any unanswered questions and/or in need of additional information on any subject, please feel free to contact our main office (see contact information under the About us tab) and speak with our staff and/or faculty at any time.  Of course, scheduling a visit with us will possibly give you the most accurate first-hand experience on the breadth and depth of our program.
In closing, I would like to welcome you to our site and look forward to facilitating the growth of your relation with us through our education and research programs.
Enjoy your virtual visit to our Mechanical Engineering website.
Sincerely,
Ruey-Hung Chen, PhD
Professor and Chair
Mechanical Engineering Department